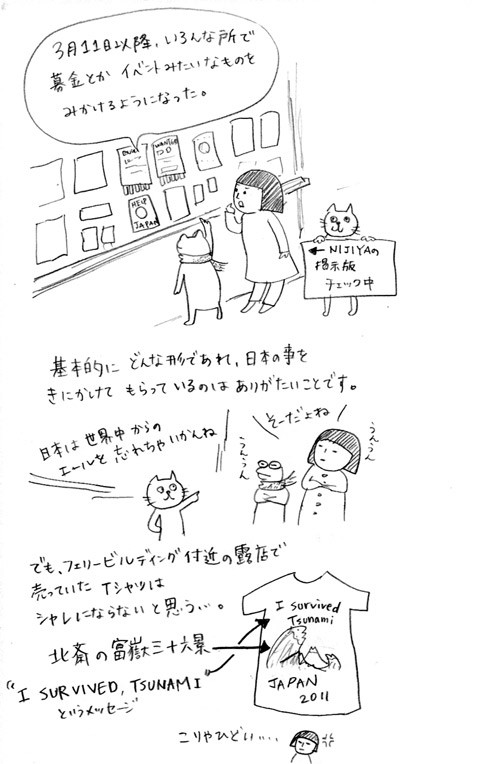 Since March 11, I've seen many posters about donation for Japan at many place in San Francisco. I'm more than thankful for all concerns and efforts toward Japan!! Japan shouldn't forget those helps. I've seen many news that the U.S, China, Korea, Taiwan, Russia, France and many countries are helping Japan. Also many individuals are thinking, praying and donating for Japan. amazing!
However I couldn't get the idea of T-shirts which was sold near the Ferry Building. I didn't like the T-shirt. The T-shirts got the image of Hokusai's 'Thirty-six Views of Mount Fuji' and the sentence 'I survived, Tsunami'.  This T-shirts seemed not to be for donation. The merchant sold them for his profit as usual. I wished he could just get rid of the sentence!
Let's say, if there were T-shirt which has an image of hurricane and the message of 'I Survived, Hurricane', would you think people are willing to buy it right after hurricane killed many people? I don't think so. The people would be offend by it. I was offended by the T-shrit of Tsunami!!
I don't want to make this type of message in the future. I have to be aware of the massage i make.  
アメリカでは自然災害として、山火事やハリケーンが多いです。もし、大勢の犠牲者を出す自然災害の直後、このようなタイプのTシャツが日本で売られていたらどうでしょう?いい気分がしないと思います。
北斎は有名な日本の浮世絵です。それがTシャツになっている事自体は何にも問題ありません。ただ、「津波、生き残ったぞ!」という文字を消して売ってほしい。。。自分がこういうメッセージ作りを無意識のうちにしないようにせねばと感じました。