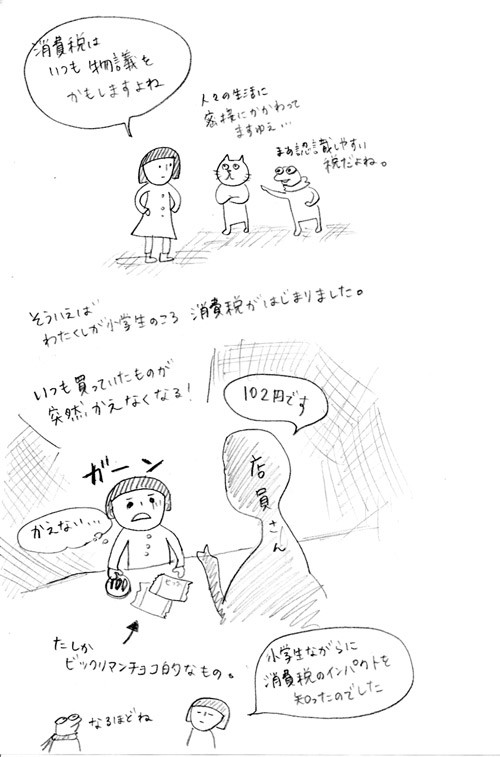 Japanese government is considering to up the sales tax up to 8% from 5%. 
Yuki : Sales tax is always a big issue. 
Nyankichi-sensei : yeh.. it's deeply related to people's life.
Frog : it is a kind of tax which people can recognize easily.
I remember the very first sales tax in Japan. It was when I was elementary student. I went to the grocery store to buy small snack as usual. I picked up the snacks as usual and went to the casher...
Then store staff said... " 102 yen ' 
Oh no~, it was 100 yen last time!!!!!
and I only allowed to use 100 yen at the time. 
Yuki : I realized how the sales tax deeply related to peoples life.
Frog : I see...
消費税は所得が低い人ほどインパクトが強いので、私としては、あまり賛成できません〜。被災者の方も消費税は払うことになりますよね?大切なものをたくさんなくしてしまった上にまた消費税で支出がかさむのはどうかと。。他に資金を集める方法はないのかしら。消費税がもし増えたら景気がますます悪くなるような気も。。特にお金持ちの人、もっともっと募金だ〜!