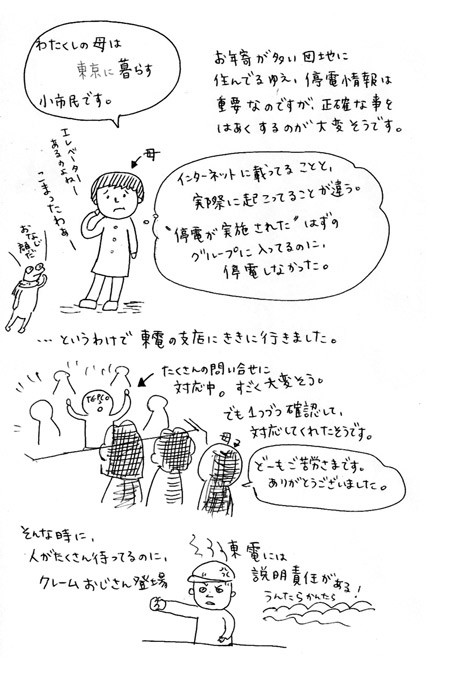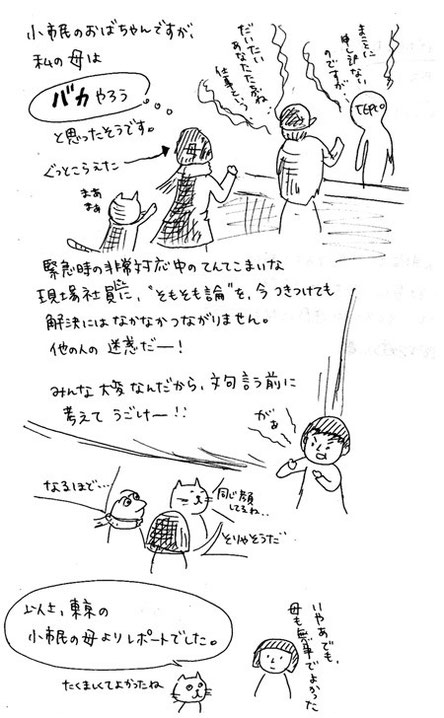 My mother lives in Tokyo which is the city having scheduled-blackout after the earthquake.
She said that it is very important to know accurate scheduled-balckout information because she has many elder people in her apartment building. Usually, they need to use an elevator but they are scared to use it now because of the blackout. If someone use elevator and blackout happened, the person inside might not be able to get out until black out finish. 
She always checks TEPCO (Tokyo Electronic Power Company)'s internet and government website etcetc...to make sure if her area has blackout or not. Her area supposed to have blackout and internet said it happened. However, she didn't experienced blackout at the day. 
So, my mother went to TEPCO for asking which area does her apartment actually belong to?  TEPCO staff are very busy at answering people's questions. It takes some times to get answer because TEPCO staff had to check the electronic system line to get accurate information. And she finally got the answer, it was that her apartment building are exception. Although her apartment building belongs to 'Group 3' area, the area won't have blackout. 
When she left the TEPCO, she saw the guy complaining a lot to the TEPCO  staff. The complain is too big problem for the staff to answer, it was like "You guys don't handle this scheduled-blackout at all. TEPCO has to explain more etcetcetc..." 
She was almost said 'you are so stupid! Complaining in here doesn't help. get out~!!' (but she didn't it could be dangerous for mid-age woman)  She was grumbling to herself that You got to have PATIENCE!! You are not only one who has trouble now!
This is my mother's report from Tokyo today.
Thank you for reading long story! 
(I have to say sorry if my English is hard to read for you)