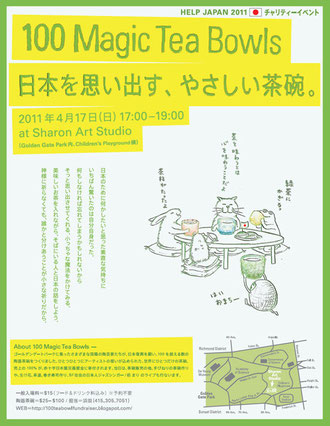 illustartion
Illustrated animals having tea for Sharon Art Studio Fundraising Event for Japan. This fundraiser raised more than $23,000 for the American Red Cross Japan Earthquake Relief Fund. Thank you for all coming this event!
シャロンアートスタジオによるチャリティーイベントの日本語版イベントポスターのイラストを担当しました。
HELP JAPAN 2011 Fundraiser ~ 100 Magic Tea Bowls~
Sunday, April 17, 2011, 5pm to 7 pm At Sharon Art Studio
Unusual events call for unusual actions. After the earthquake and tsunami in Japan we all wanted to do something. So, we, artists from Sharon Art Studio, made 100 magic tea bowls to commemorate the tragic event and help Japan. Let's come together to talk about Japan with friends and family while we enjoy some Japanese tea, food and ceremonies. By sharing our feelings together we will express our hope for Japan's good future.

----−−−−−−−−−−−−−−−−−−−−−−−−−−−
About 100 Magic Tea Bowls-
Sale of over 100 Ceramic Tea Bowls made for this event by local ceramicists.
Taste the flavors of Japanese Cuisine. Tea Ceremony, Ikebana( Japanese art of flower arrangement), Sushi Making, Clay Demos and Song by Jazz Japanese singer Mari Tochi.
100% of the proceeds will be donated to the Red Cross. 
----−−−−−−−−−−−−−−−−−−−−−−−−−−−
Sponsored by San Francisco Recreation and Park Department and Friends of Sharon Art Studio
100 Magic Tea Bowls - 日本を思い出す、やさしい茶碗
日本のために何かしたいと思った素直な気持ちに
いちばん驚いたのは自分自身だった。
何もしなければ忘れてしまうかもしれないから
そっと思い出させてくれる、小っちゃな魔法をかけてみる。
美味しいお茶を入れながら、そばにいるひとと日本の話をしよう。
神様に祈らなくても、誰かと分けあうことが小さな祈りだから。
---------------------------------------------------------------
ゴールデンゲートパークに集った様々な国籍の陶芸家たちが、日本復興を願い、100を超える陶器茶碗をつくりました。ひとつひとつにアーティストの想いが込められた、世界にひとつだけの茶碗。売上の100%が赤十字日本震災義援金に寄付されます。陶器茶碗販売の他、手びねりの茶碗作り、生け花、茶道、巻き寿司作り、ジャズシンガー(杤まり)のライブも行います。
---------------------------------------------------------------
CD&C : Kazuya Iwata, GD : Taichiro Takeo, Illustration: Yuki Yamagata