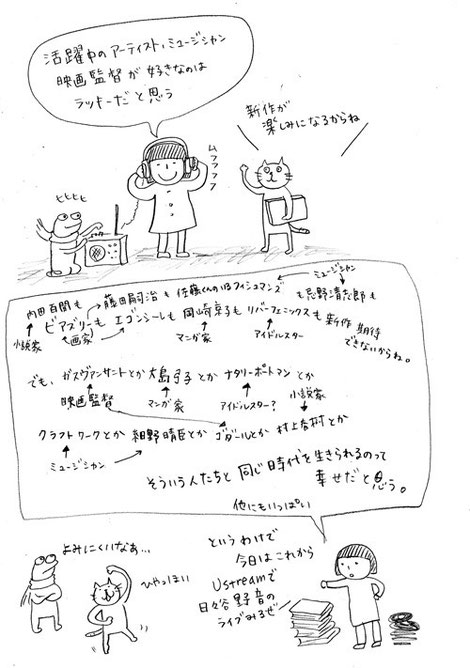 I'm lucky. I live the same time with the artist who I love and I can see their newest works!
After I finished to read/listen/see all the work the artists had done, I felt sad! I can NOT see the artist's new artwork anymore... those are the artists who are Hyaken-Uchida (novelist), Hirotsugu Fujita (painter), Fishmans with Sato-kun (band), Kyoshiro Imawano (musician), Beardsley (Illustrator), Egon Schiele (artists), Kyoko Okazaki (comic artist), RIver Phenix (actor) and so on!
BUT I can see the new work of artists: Gus Van Sant (Film Director), Yumiko Oshima( Comic artist), Natalie Portman (actress), kraftwerk(band), Hosono Haruomi(musician), Godard (FIlm Director), Haruki Murakami(novelist) and so on.... I'm really happy about the fact that they live in the same period with me! 
Frog: too much text... it's hard to read.
Nyankichi Sensei : ♪
Yuki : so..I'm going to see USTREAM for live show at Hibiya-Ygai Ongakudo! So thanks for USTREAM! 
ウェブサイトをチェックしたくなるアーティストがたくさんいることもこの時代に生きている幸せの一つです。今頃になってクラフトワークのウェブサイトからライブ映像をみて楽しんでいます。ライブいきたいなあ。
↓
kraftwerk
http://www.kraftwerk.com/